Download Now:
The 41-Page Strategy Execution Toolkit
Nine out of 10 organizations fail to execute strategy. Avoid failure with this toolkit.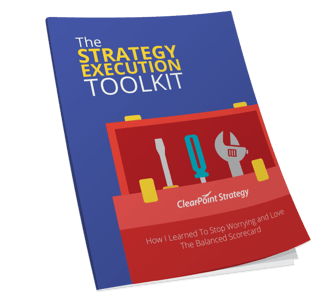 Transition your executive team from an outdated purpose statement and some disjointed goals to a full-fledged strategy map. We'll take you through the process with examples and blank worksheets so you'll be the proud owner of a Balanced Scorecard at the end. When you're done, you'll wow your team with your ability to:
Guide them through the process of systematically writing a purpose statement
Build a change agenda so you know what needs to improve
Create a strategy map with measures and initiatives
Download this free Balanced Scorecard template and become the strategy superhero your company needs.