Everything you need to execute strategy.
All in one place.
Keep everyone across your organization focused on the activities and metrics that matter most in achieving your overall strategic objectives.
ClearPoint was developed specifically to support strategic planning, execution and reporting. ClearPoint's strategy reporting software integrates data from multiple sources so that you can manage your objectives, KPIs, initiatives, and action items in one place — with no hassle.
We make strategy reporting and business performance management simple and efficient so that you can focus on achieving objectives. See the custom dashboards, reports and KPIs in action. Schedule a conversation!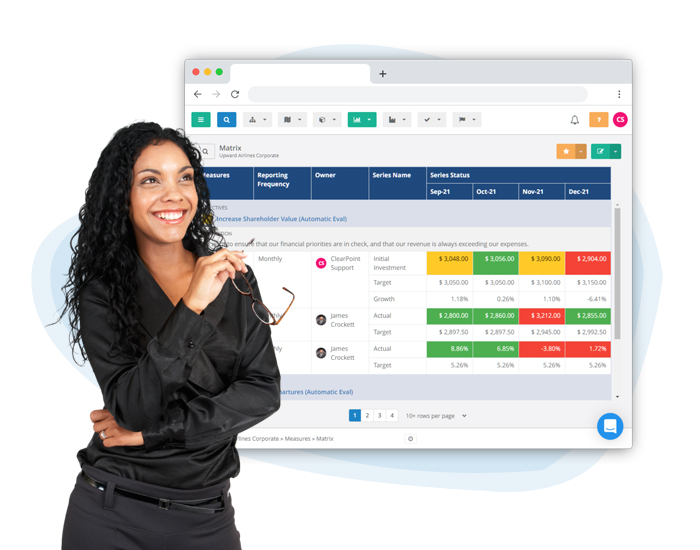 REDUCE THE COST AND COMPLEXITY OF YOUR MONTHLY REPORTING
Automate your strategy reporting process.
Data Collection
Finally get to "one version of the truth" by integrating your on-premise, SQL, SaaS, and spreadsheet metrics.
Data Synthesis
Run advanced calculations and evaluations across data sets to produce interactive charts, dashboards, and reports.
Analysis and Insight
Use intelligent workflow tools to automatically gather qualitative insights from your management team.
Generation & Distribution
Create beautiful reports in a format that you need that match your branding that are automatically distributed.
GET THE BIG PICTURE
The report is only
the tip of the iceberg.
Most of the time spent on reporting is stuck "under water:"
Manually integrating data by copying and pasting data.

Building complex and error-prone linked spreadsheets.

Chasing down colleagues for analysis and insight.

Distributing (and redistributing) reports via email.
ClearPoint automates this inefficient process, saving you up to 40 hours per month per report.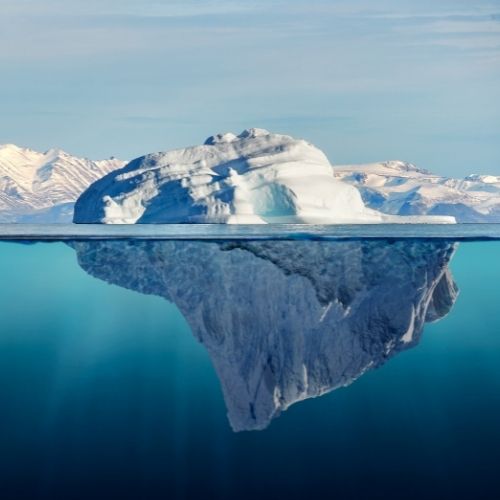 DETAILS
Focus on strategy, not reporting.
Don't waste any more time creating one-off reports:
Customize reports with minimal effort.
Create alerts to notify you when things go wrong,
Drive data-driven decision-making.
Supercharge Excel and PowerPoint.
With ClearPoint, you can build and distribute beautiful custom reports in minutes, not hours or days.


TESTIMONIALS
Trusted by the world's highest performing organizations — large and small.
When I first joined the City of Germantown, our performance management process was done through Excel. Adding ClearPoint to our process really put us over the top and helped us become a National Baldrige award recipient.
Our organization was searching for a strategic planning software that would give us the ability to customize to meet our needs, including reports, charts and graphs. ClearPoint Strategy has been that solution.
With ClearPoint, we are able to create one-click reports for our Board of Directors and another set of one-click reports for our leadership team. The options for style and organization of reports seems endless to me.
CUSTOMER SUCCESS
Partners, not vendors.
Your process is always changing and improving, and our partnership will too. ClearPoint will support your process every step of the way.
We're not just here to provide you with a software tool; you can talk to our team anytime to leverage our expertise.
FAQ
Any questions? We're here to help.
What is ClearPoint?
ClearPoint is the world's first strategy reporting platform. Instead of focusing just on the strategy report, ClearPoint automates the process of creating beautiful reports that you can easily distribute to everyone inside (and even outside) your organization.
Do you have client case studies in my industry?
Yes! ClearPoint is used by organizations around the world in almost every imaginable industry. Schedule a time to meet with one of our strategy reporting experts and we can connect you with one of our many customers in your industry.
What plan is right for me?
We offer three plans for ClearPoint -- Basic, Professional, and Enterprise. There are a few factors that go into choosing which plan is best for you, but generally speaking, the Basic plan is for smaller organizations just getting started with strategy reporting, the Professional plan is for mid-size organizations with several departments, and the Enterprise plan is for large organizations that have 100s to 1000s of employees and complex reporting requirements.